Visit us on Facebook for current herd updates:
Lil Miss B Haven Nigerian Dairy Goats
|
Promote Your Page Too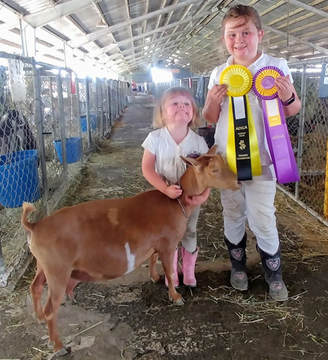 Thank you for taking the time to visit our small herd of Nigerian Dwarf Dairy Goats. We are working hard to develop a herd of correct animals that perform well in both the show ring and in the milk room. This project began in the fall of 2011 for our daughter, Bentley, who is 10 years old and a true farm girl who loves her little goats. The project now includes Bentley's little sister, Teagan, who is 5 years old and loves attending goat shows! Over the past few years we have been fortunate enough to work with several top breeders and have had the opportunity to build a strong herd with the addition of well-bred and correct animals.
Our farm is located in Lakeport, California on almost 11 acres of flat farm land. The Nigerian Dwarfs share the barn with two other herds of dairy goats:
LakeShore Nubians
(Megan Tredway Carter) and
Heart Mt LaManchas
(Aaron Carter). We enjoy living in our rural agricultural community and being able to raise our children around farm life.
We take great pride in the management of our animals. The focus is on providing a stress-free, relaxing environment so they can be as productive as they genetically can be. We take every preventative measure when it comes to protecting our herd from CAE and other diseases. We raise all of our kids on heat-treated colostrum for the first 24 hours then we gradually move them onto pasteurized milk until they reach three to four months of age. All of our does are fed the best alfalfa hay in the area and are on a high calorie grain mix, while milking. We follow a regular worming, vaccination, and supplement schedule and are always evaluating their health.
If you are interested in one of our animals or would like to place a reservation on a kid, please feel free to email or call us. We hope that you enjoy your visit!
Aaron, Megan, Bentley & Teagan Carter
---